The scorching summer days have begun, which further welcome heat rash, itchy skin, and so on. Moreover, the unbearable temperature rise leaves one exhausted and tired and it becomes nearly impossible to work for a long time. The perfect solution to keep all these troubles at bay is to have a top-class Air Conditioner or AC installed in your residential and commercial spaces. The search for a best-in-class AC ends at Pittappillil, as you can get to explore several options and you can opt for the ideal one for you.
PANASONIC INV 1.0T 3S KU12XKYF
The Panasonic CS/CU-KU12XKYF AC is one of the best-in-class split ACs available in the market. It can make a Customized Sleep Profile. Besides, this split AC also comes with a Filter Cleaning Alarm. The One-Touch Service has made the CS/CU-KU12XKYF a convenient device to use.
Besides, the Panasonic AC features AI-based Power Management. The AC is compatible with both Alexa as well as Google Home. The Panasonic CS/CU-KU12XKYF AC has come with a best-in-class Japanese design to complement the air conditioning requirements for contemporary homes. Hence, bring Panasonic 1 Ton CS/CU-KU12XKYF AC today to convert your home into a pleasant space.

SAMSUNG INV 1.5T 4S AR18AY4ZAPG
The Samsung Inverter Split AC is one of the best-in-class, feature-loaded air conditioners. Features like Smart Installation, Stabilizer-Free Operation, Auto Clean, Digital Display, etc have made this AR18AY4ZAPG a perfect companion for a place.
Not only does this AC render a contemporary look to your home but it ensures a long-term operation. The Easy Filter Plus feature streamlines the operation of the AC. The thick mesh helps to cleanse the Heat Exchanger of the AC.
The Samsung AR18AY4ZAPG features the Good Sleep mode, Tri-Care Filter, R32 Refrigerant, and Triple Protector Plus. Thus, it has become an advanced AC for your home.
LG 1 Ton 5 Star Inverter Split AC
The LG MS-Q12YNZA is another popular split AC in the market. It comes with a best-in-class variable-speed, inverter compressor that can regulate power, according to the heat load. The device has come with a 5-Star energy rating.
The annual energy consumption is 571.99 Units. Some of the top-notch features of the LG MS-Q12YNZA include Ocean Black Fin, Magic Display, Convertible 4-In-1 Cooling, Himalaya Cool, and so on. The Ocean Black Protection helps to keep corrosion and rust at bay. That means the device ensures great durability and top-class cooling.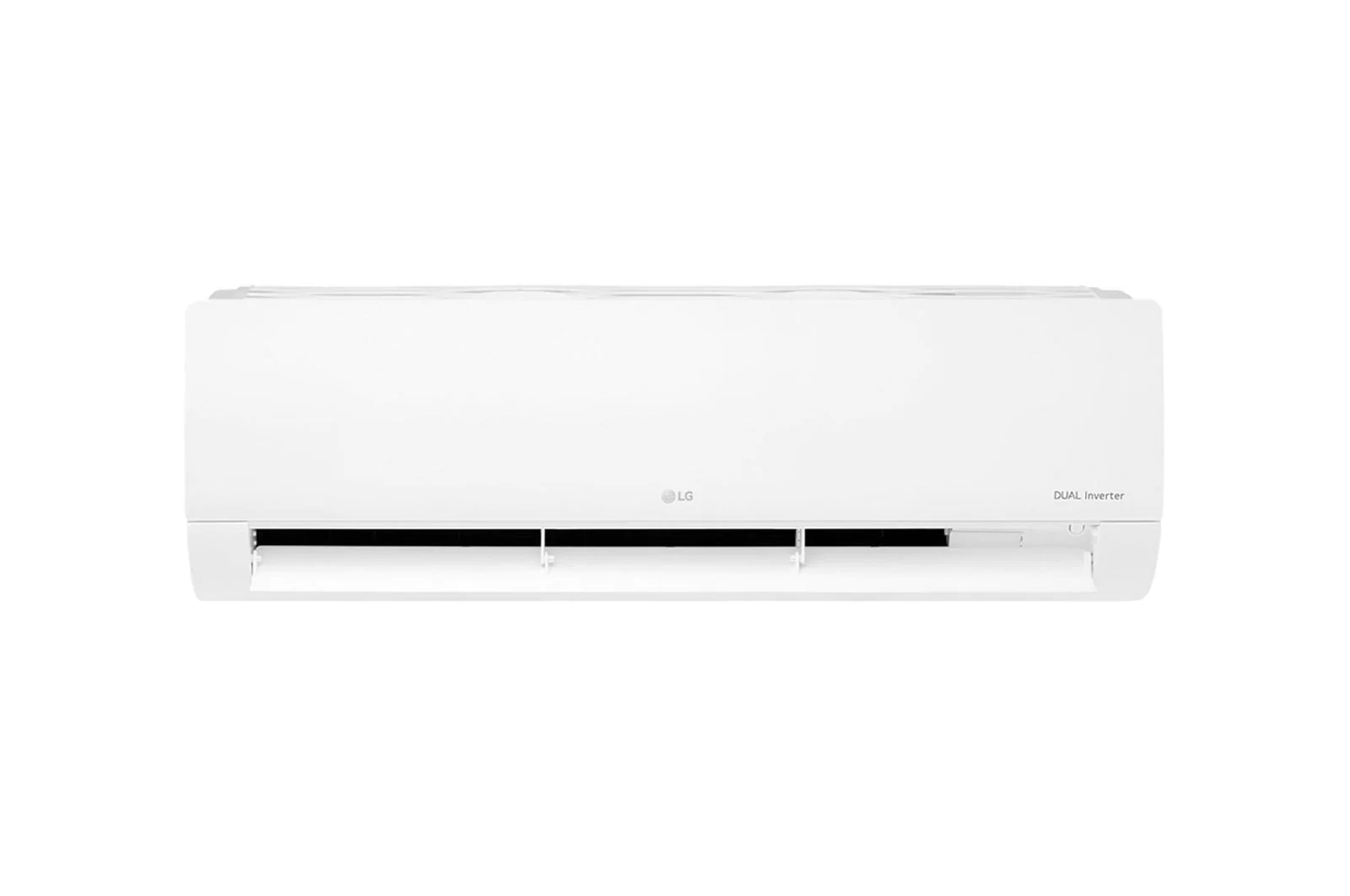 WPOOL INV 1.0T 3S 3D COOL ELITE PRO COPPER
The Whirlpool 3D Cool Elite Pro Split AC comes with Intellisense Inverter Technology. That means there is no high amount of power consumption.
The top-notch Inverter Technology caters to the cooling requirements of the user and alleviates the power consumption. Moreover, the AC comes with intelli-convert~ along with 8-in-1 modes. As a result, users can switch various modes by merely touching a button.
BLUE STAR INV 1.0T 3S IC312DLTU
The Blue Star IC312DLTU comes as one of the best-in-class split ACs. It comes with a capacity of 1 Ton and an energy rating of 3 Stars. Besides, the device features a Copper Condenser.
When it comes to special features, the IC312DLTU AC comes with a timer, which can switch the AC on/off at particular times. Moreover, the sleep mode is also there to escalate the temperature automatically every hour and thus it saves energy.
GODREJ INV 1.0T 5S GIC12HTC5-WTA
The Godrej GIC12HTC5-WTA AC comes with an outstanding compressor. It features excellent rotational frequency to ensure blazing-fast cooling without putting excess pressure on the device. That means users of this AC get an outstanding cooling temperature at high temperatures as well. The GIC12HTC5-WTA AC features an inverter compressor, smart diagnosis, silent operation, and so on.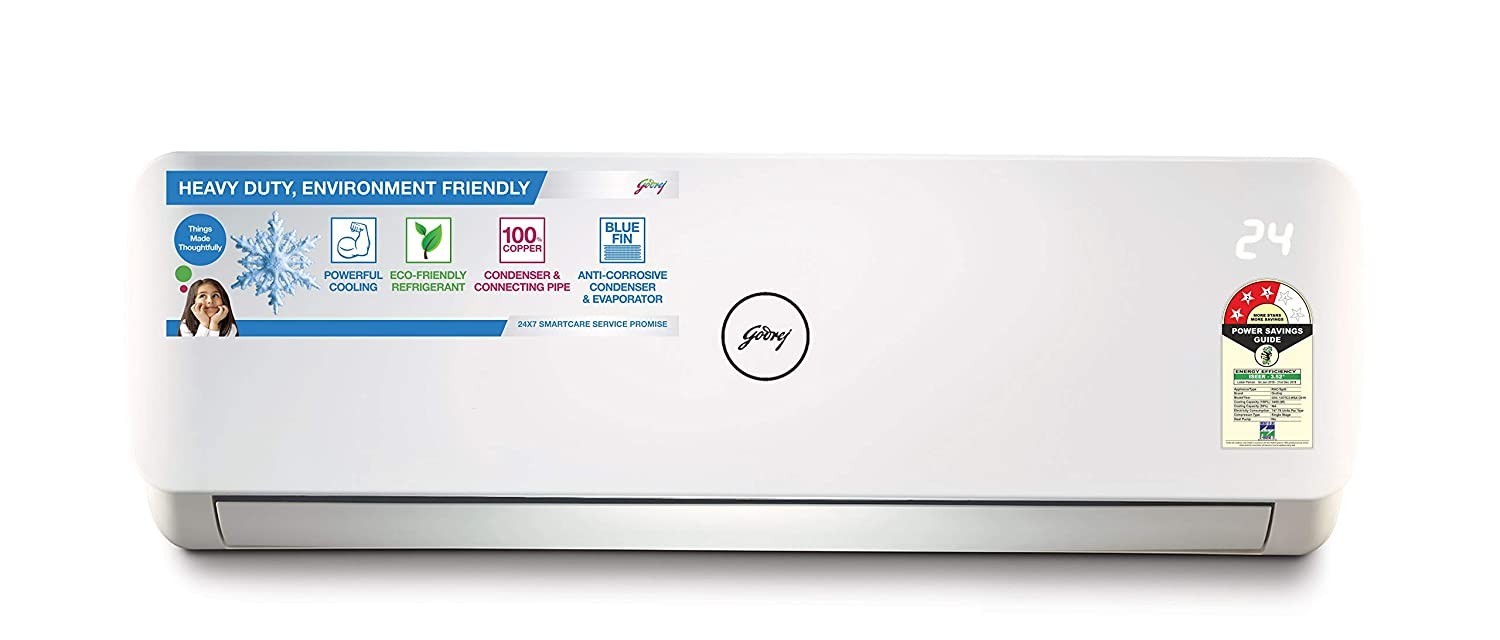 SPLIT AC HITACHI INV 1.0T RSFS311HCEA
The Hitachi RSFS311HCEA is one of the top-notch split ACs available in the market. It comes with various outstanding features, such as Filter Clean Indicator, Tropical Inverter Technology, etc. Moreover, the device comes with the convenience of Stabilizer Free Operation. It is a 100% Copper AC, which has come with a Dry Mode and On/Off Timer.
SPLIT AC ONIDA INV 1.0T 5S IR125ONX
The Onida IR125ONX comes as a one-ton split AC with a 5-Star energy rating. It features the convenience of four-way cooling. Moreover, the AC comes with a stabilizer-free and anti-fungus operation. Its powerful cooling keeps the environment cool and comfortable.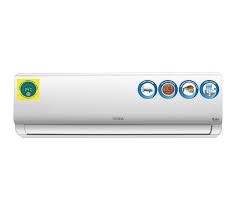 CARRIER INV 1.0T 3S 12K DURAFRESH NXI
The Carrier Durafresh NXI AC features PM 2.5 Filter and a hidden display. The device has come in 100% Copper and it has a durable compressor. The hidden display and double drain are two other excellent features of this feature-loaded AC. It also has a PM 2.5 Filter and R-32 Eco-Friendly Refrigerant. The Durafresh NXI AC can even work in a high ambient temperature of 52°C.
EFORBES INV 1.0T 3S GACDFMBNCW3120
The EFORBES 3S GACDFMBNCW3120 AC has made an excellent amalgamation of safety and style. It can work in every season with the ace. The device provides cool air throughout summer whereas pure air all year round.
Choose your favorite AC from the options above. Shop for the best Air Conditioner in Kerala at Pittappillil Agencies.