Top 10 front-loading Washing machines for this monsoon 2020
While most parts of the country have to contend with only one rainy season, Kerala has two rainy seasons. The Southwest Monsoon is here already and begins around the month of June. It is called Edavappathy in Kerala. By mid-October, another rainy season commences with the arrival of the Northeast Monsoon which is called Tulam by the people of the State.
The double monsoons make the selection of the right washing machine a thing of prime importance. The cloudy skies and humidity make it difficult to dry the clothes and leave a bad odor to the clothes that are now well sun-dried. The mud splashes on clothes that happen inevitably, however careful one is, leave stubborn stains on the clothes.
The choice of washing machines that take the load of the increased number of clothes, the drying and the extra duty of cleaning tough stains is a tricky one. Luckily, at Pittalppillil Agencies, we have for you a choice of ten choicest washing machines that the latest, incorporating advanced technologies and aiding in drying the clothes.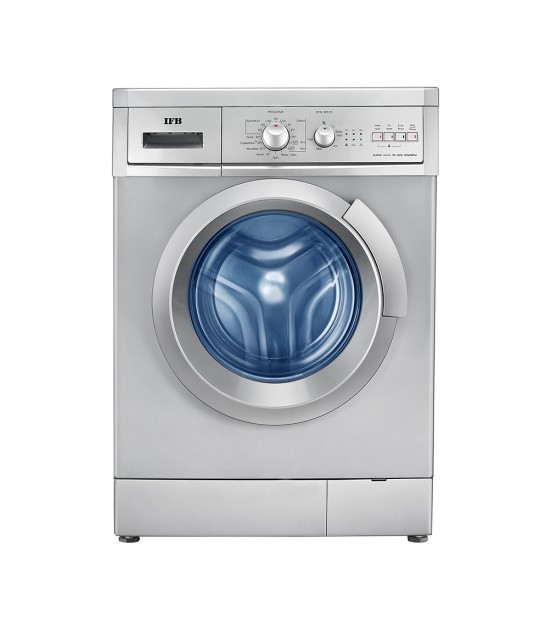 The IFB Elena Aqua SX is a heavy-duty washer that deals dirt in style. It comes with increased RPM which means the level of dryness of clothes is better.
This improves the level of dryness in your clothes and its Liquid Detergent Dispenser is special and eco-friendly. This means that you have less to worry about if you are allergic to detergents.
The IFB Elena Aqua SX has what is called the Aqua Energie feature. It actually treats hard water improving the life and performance of your machine. The water gets energized with the help of this built-in device and thereby the filter treatment dissolves the detergent better.
This means that your clothes get a softer, gentler wash. Another feature called the 2D Wash System uses a shower leading to the thorough soaking of the clothes and a cleaner wash at all times.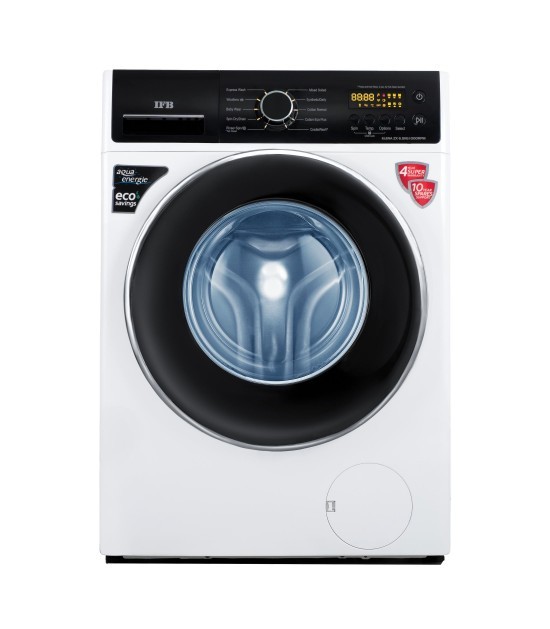 This is a classier version with some superb additional features. The aesthetic appeal along with features like CradleWash, Aqua Energie and a range of wash programs, convenience and safety features make it a superb choice.
Its laundry add feature allows you to add laundry even after the wash cycle has begun. If you have a smaller load of lightly soiled clothes, gym clothes or daily home wear, you can do the express wash with it. The Crescent moon drum with grooves that create a gentle water cushion prevents the costly fabric from being damaged.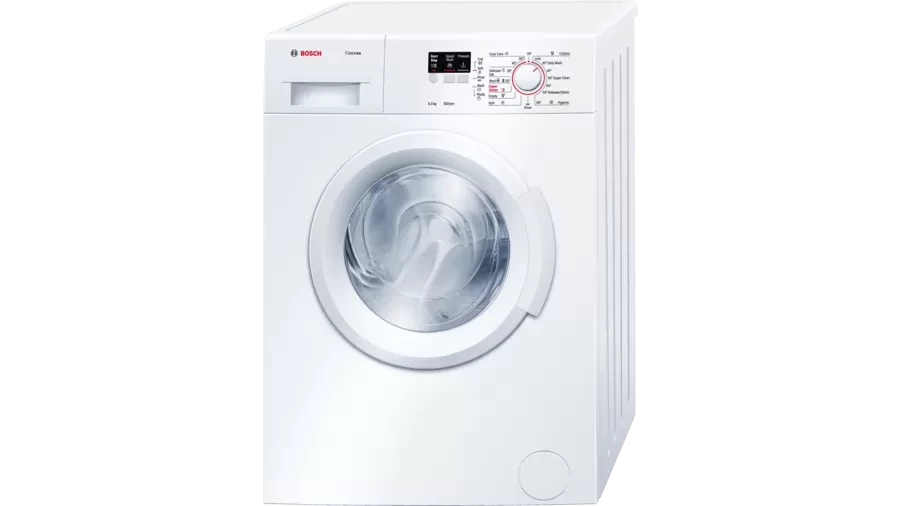 If you are looking for a front-loading superior washing machine that offers you completely fuss-free wash performance, is a great good for the environment and goes easy on your wallet, this is the one you should choose.
The features make washing your clothes almost a pleasurable activity. The Active Water Plus technology of this advanced machine adjusts the water level in tune with the laundry weight and according to the nature of the fabric. Now you can also wash clothes faster and it can be completed within just 15 to 30 minutes! The Drum Clean feature removes lint and toxic residues, keeping the drum disinfected and clean. The low noise level of the laundry means that you can use it even at night and all you hear is a comforting hum.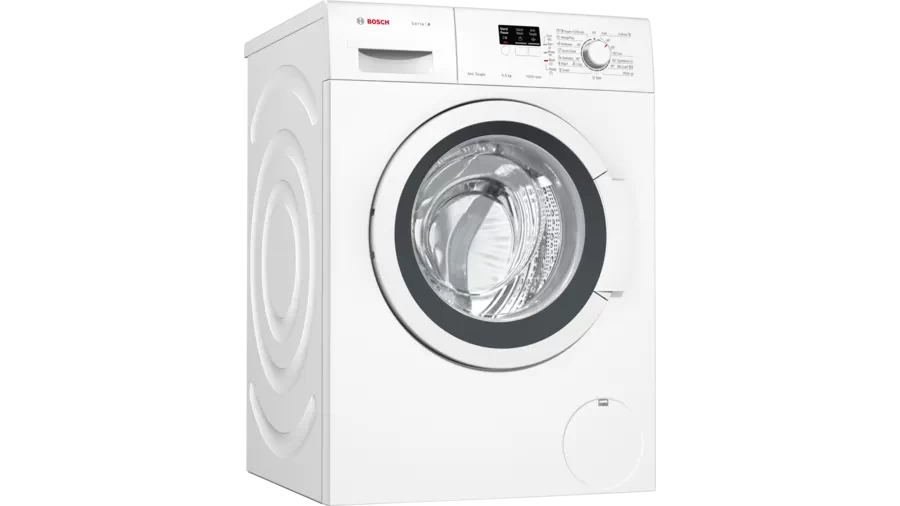 With Bosh 6.5KG WAK2006HIN, your cloth tangle issue is reduced by 50%. The breakthrough VarioDrum wave-droplet design enables a thorough and gently clean, especially good for high-quality textiles. The AntiVibration™ design makes it one of the quietest washing machines available today.
Its special design feature offers more stability and reduced vibrations. Now you can wash without having to hear a lot of vibrating noises. The Anti-Vibration Side Panels are designed to bring vibration to the minimum and ensure the best stability even during the spinning process. The machine is sturdy, steady and does not shake even during heavy action inside.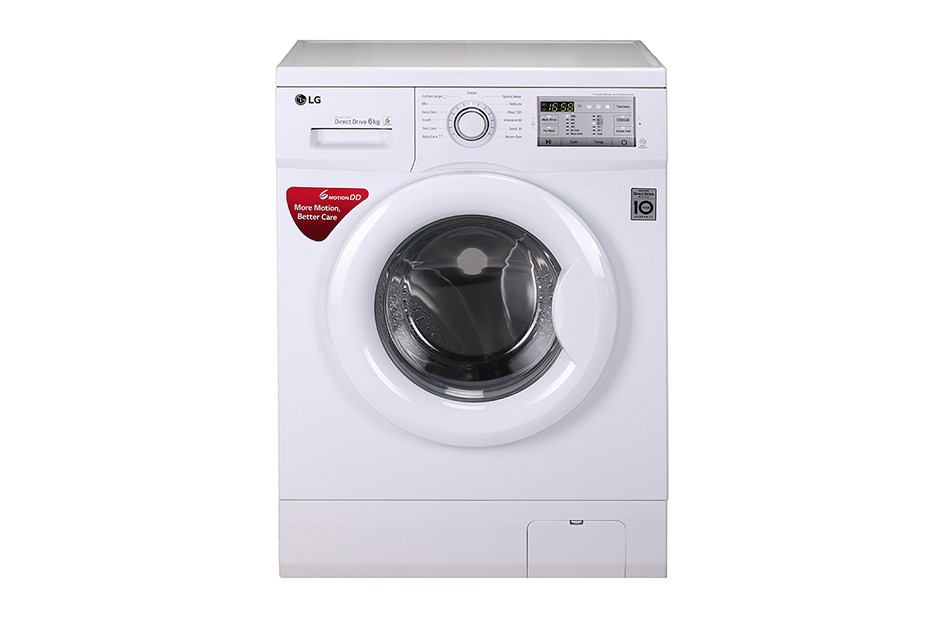 This is one of the best-selling front load washing machines in India and is highly reliable. The solid performance is what makes it a winner over other washing machines in its class that has more features.
With a good capacity, faster speed and temperature setting that gives a great range, this washing machine is rust-resistant and has a touch panel that looks modern and gives you're the freedom to change settings with ease.
Wash settings like baby care, skincare (meaning, the detergent residue is completely removed), easy-care, cotton eco, sportswear, delicate, wool, etc., are perfect for you. There are also Medic Rinse, Intensive and Crease care options that you will find helpful. The baby care setting is especially great for those couples with babies as it heavily cleans soiled baby clothes and removes stains. With a faster wash cycle, it offers a faster wash than some of the comparable products.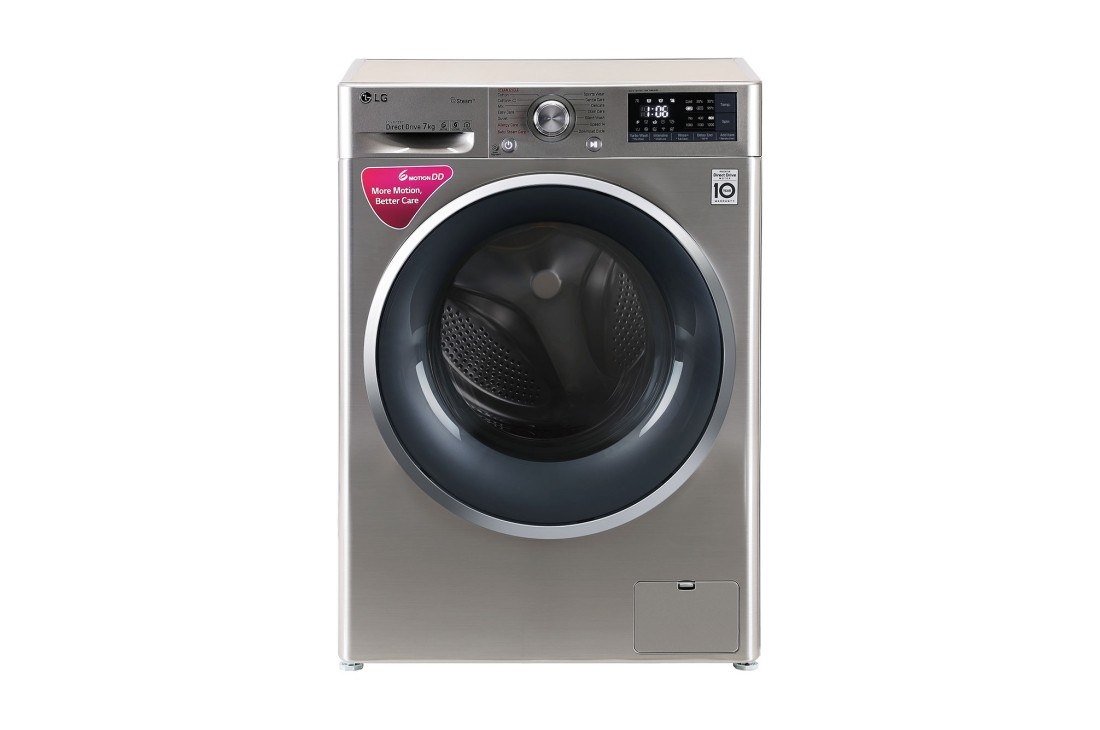 This is a washing machine that helps you combat germs with the power of Steam™ and TurboWash™ Technology. This is a powerful germ-free washing system that reduces 99.9% germs. It means all allergy causing germs are virtually removed from your clothes. What's more, it takes less time to get your clothes clean and the JetSpray system sprays water on to the clothes making the rinse cycle highly efficient.
The machine comes with an Optimal Wash for fabrics with 6-motion DD technology that provides optimized motion combinations that are suitable for each fabric type. It means that the washing performance is higher and clothes are much safer with gentler wash.
Now if you like your washing machine to be as quiet as it is reliable, this is the one to choose. It is reputed as one of the quietest washing machines in the market today. Also, the standard 10-year warranty on the motor is a feature that must be taken into account.
Another factor that is absolutely helpful is the LG ThinQ® with the Wi-Fi feature. Now you can control your washing through a Smart Remote Control. You can make the commands from anywhere and at any time. You can also download around 20 additional wash programs and troubleshoot minor issues with the Smart Diagnosis™ feature.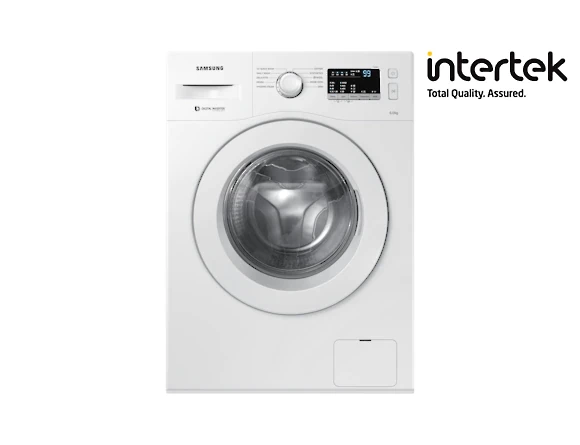 If you wish for a washing machine that would make washing clothes as easy as you would like, here is the right one for you. It is a front-loading machine with exciting features like Eco Bubble. Even with a high capacity of 6 kg, it washes clothes with a delicate touch. It has a Digital Inverter Motor which leads to superior energy efficiency. The machine is rather quiet, has a long-lasting performance capability and is equipped with a Chemical-free Drum Sanitization feature that keeps the washer fresh and clean from the harsh chemicals of the detergents and softeners.
The one aspect that you would love for buying it for almost all the monsoons ahead in life is that the Samsung WW60R20GLMW Front Loading Washing Machine is not just good looking, it cleans spotlessly too. The Quick Wash program can efficiently wash lightly soiled clothes quickly – leaving you more time for yourselves.
Now, this is a feature that you should certainly have. The Diamond Drum "soft curl" design is all the rage. It has smooth diamond shaped-ridges that are gentle on your clothes and prevents clothes from getting trapped. The clothes get cleaned deeply and hygienically with steam that is released from the bottom of the drum. Not only does it kill bacteria to the tune of 99.9%, all allergens too are destroyed as per a report.
SIEMENS iQ300 7 Kg WM10K161IN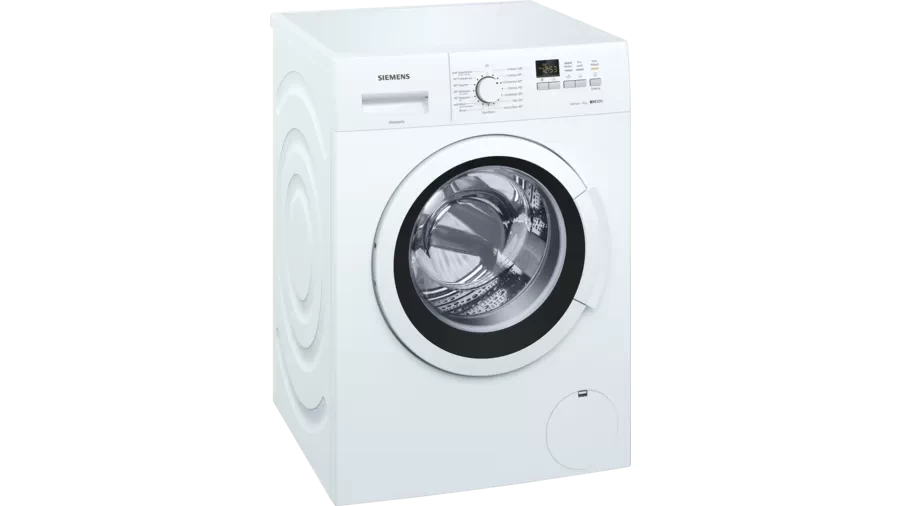 It is high-tech to the rescue of homes that have a great load to wash but need a superior machine at an effective price. Siemens WM10K161IN 7 Kg Fully Automatic Front Load Washing Machine is a Front Load washing machine that supports a capacity of 7 Kg and provides a superior wash for cleaning heavily soiled clothes especially like the ones you witness during monsoons.
WHIRLPOOL 7.0 Kg FRESH CARE 7010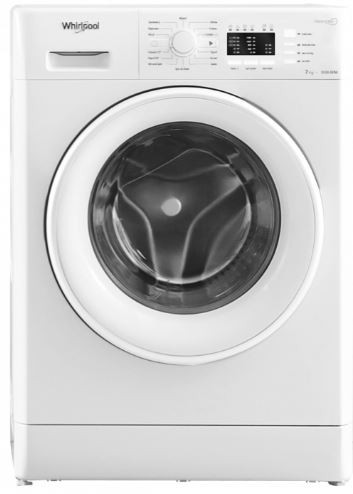 This heavy-duty washing machine has 14 wash programs. Designed in Europe, it brings to India superior European craftsmanship and design that you would certainly fall in love with. Some of the features are now common across all leading machines including Steam Technology that enables the enhanced washing performance with seam that keeps laundry soft, fresh and hygienic. This machine has what is called the 6th Sense SoftMove Technology. This makes the machine technologically intelligent by which the drum movements are adjusted according to each fabric type. Another great feature is that the spin cycles can be modified to reduce the creases that get formed in the clothes so that you can iron it easier.
GODREJ 6.0 Kg WF EON 600 PAEC WH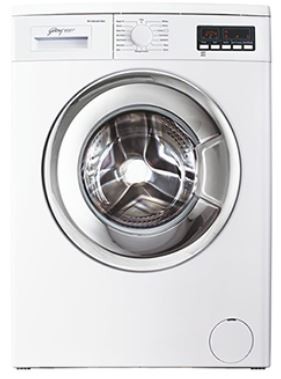 This is a fast-moving machine and is getting sold out pretty fast for its features and price combination. One feature that is best loved by the buyers is that the Eco-Balance technology reduces both Energy and Water consumption – something that is of great concern to Indians. It balances these according to the laundry load and brings down the bill.
Like all leading machines, it removes stains effectively, has a time-saving effect, fights germs and allergens and takes on a whole load of a family's daily wash easily. There are 15 wash programs and the machine automatically detects load unbalance and ensures load balance. This enhances the life of the machine. The excess foam and soap residue are also removed leaving the machine very clean. The overflow protector ensures that the water level does not overflow.
Now is the time to check out all these wonderful products at Pittappillil Agencies showrooms across Kerala where you can get expert advice and the best offers.
To buy washing machine online login to Pittappillil Agencies — Largest Home appliances store in Kerala. All top-rated brands are available. Best customer services and support.